Post by Deleted on Aug 14, 2010 19:36:24 GMT -4
[glow=red,2,300]The Pro Wrestling News Desk Show 08/14/10[/glow]
Reco Bastiste: Ladies and Gentlemen, Wrestling fans, welcome to this edition of PWND. I'm Reco Bastiste and with me as always is my broadcast colleague "Fast" Gunnar Notchez...
Gunnar Notchez: Sup!
Reco Batiste: Fans, we have some big news for you this week. As most of you know, Next Level Wrestling opened it's doors once again after a six month hiatus. This has sparked a response from the President and CEO of All American Championship Wrestling, Spencer Perez Federline III. He is none to happy about recent developments.
Gunnar Notchez: In other words he's madder than a bitch wolf..
Reco Batiste: Not exactly what I was looking for, but it works... let's roll tape...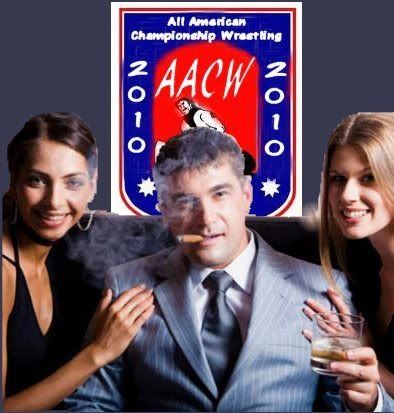 Spencer Perez Federline III
SPF III: It has been brought to my attention that a one Gordon M. Stone has reopened Next Level Wrestling after a half year hiatus. In doing so he has willingly and knowingly stolen AACW talent such as "Dr. Death" Steve Williams, Harley Race, Rob Van Dam, and D'Lo Brown.
Now I purchased the above mentioned parties from Mr. Stone six months ago when he was put into rehab for alcoholism. For stealing my talent that was under contract with me I should sick my attorneys on you, but instead I will retaliate against your "act of war" and run you out of business.
Enjoy your acquisitions... Van Dam and Brown didnt do much anyhow. Race hasnt done anything since losing the tag titles and my World Champion Rick Rude beat your World Champion Williams in one of his final matches here. I give you six months before you are out of business and passed out drunk under a bridge. Have a nice day...
Reco Batiste: Strong words from the AACW President...
Gunnar Notchez: The guy is a total douchebag... lets hear what NLW Owner Gordon Stone had to say...
RB: Oy vey, looks like he's already off the wagon...
GN: One Jack and Coke wont hurt ya...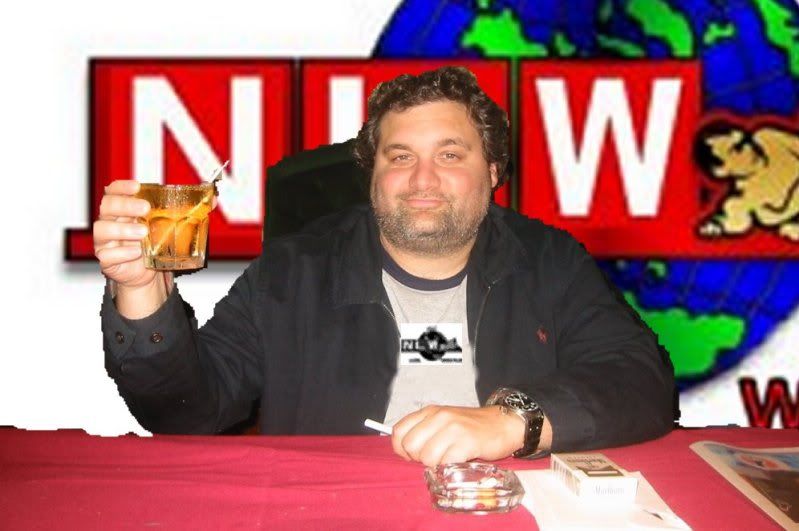 Gordon M. Stone
Gordon Stone: Wrestling fans, let me be the first to thank you for allowing me to return to this great business and to Next Level Wrestling. I want to say we are back and stronger than ever and have picked up where we left off with only a few exceptions.
Mr. Federline would have you believe that I stole talent from him that was under contract. The truth is these parties we not under any written contract of any kind. So his theft charges are bogus. The same cannot be said for Mr. Federline Im afraid. In fact he signed up several NLW stars that just appeared on our Homecoming card such as Buff Bagwell, Diamond Dallas Page, and The Road Warriors. Am I bothered with it... nah, I wish the best for those guys. I have more than enough talent here in NLW to entertain you good fans.
One other thing... Next Level Wrestling took a hiatus because I did have a lengthy hospital stay, however, it was not rehab for alcoholism as Mr. Federline would have you believe. Mr. Federline, I didnt come back asking for a "war" as you put it. One thing though, I wont be backing down from you. I intend to put out the best wrestling show in the United States and even the World. If that includes kicking your douchey ass, then amigo I will drink to that!
RB: Well wrestling fans, looks like this fed war is on! It shall be interesting to see how these two organization will play things out.
GN: Hells yeah! I'll drink to that as well! I hope Gordo kicks his bitch ass!
RB: Gunnar, we are supposed to be unbiased reporters here...
GN: Hey homey, I am unbiased except when it comes to that douche.
RB: Sorry ladies and gentlemen for my colleague, our time is up... we look forward to the coming week. Have a good night and see you at the matches!