Post by todd on Apr 15, 2011 20:22:43 GMT -4
W3 SUPERSTARS
Phineas Phatback stands in the ring and announces some last minute changes to the upcoming pay per view Three's A Crowd. The ladies title match between Thunderball, Artemis Jubblies, and Champion Mona Mammeries originally planned as triple threat match is now a three way dance. The 2/3 falls Ultimate Title match between Flex Manley and Frankenpuss has an added stipulation making it an federation exile match with the losing wrestler exiled from the W3 for a period of 60 days. I can understand Phineas Phatback wanting to build up excitement and increase the pay per buys but taking of the top two W3 superstars out of the picture for an extended period of time seems really silly to me.
- Johnny Satan and ALX put on a great main event match with Satan drawing the disqualification on account of interference on the part of Suzy Succubus. Gramma Granny and Buddy Hotpants come to the rescue of ALX during a post match brawl which leads us to the final match for Three's A Crowd. The Devil's Triangle ( Johnny Satan, Suzy Succubus, and Lil Torquemada) vs. The Legends (ALX, Buddy Hotpants, and Gramma Granny)
OTHER STUFF
-The Hell's Mongol Sturgis Khan makes his W3 debut by burying Amish Robot. After pounding The Mechanical Mennonite with Mongolian Chops and boot stomps Khan gives Amish Robot a beating outside the ring and finishes the job with THE PILLAGER (Garvin Stomp)
Winner - Sturgis Khan via THE PILLAGER in 4:30 *
This match may have lasted over four minutes but it was essentially over after two. Sturgis Khan seems like the type who doesn't care as much about winning as he does about beating people up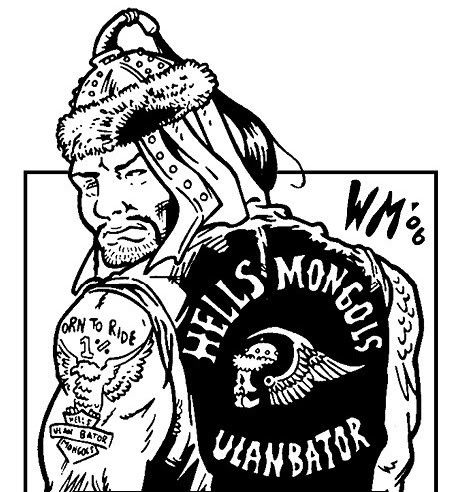 - The last Diva challenge match before Three's A Crowd is
Rhinestone Cowgirl & Wild Thang (Team Sayanora) vs. Kween Squaitifah Cookiepuss & Beulah Gorillacutty (Team Cookiepuss). Wild Thang and Cookiepuss start things off with Wild Thang controlling the action and getting one near fall with a double DDT. Rhinestone Cowgirl gets tagged in a short time later and wraps up things quickly with UDDER DEVASTATION
Winners Rhinestone Cowgirl and Wild Thang (Team Sayanora) **
Diva Challenge Standings
Team Sayonara - 2
Team Cookiepuss - 1
The Diva challenge is still anyone's game. Both teams are equal in tag team matches 1-1 with one double disqualification. Rhinestone Cowgirl looks like the most dominant of the eight so far and could be the deciding factor in the Diva Challenge.
- Thundermug and Johnny Gizmo face off in the third and final qualifying match for the beta max triple threat match. This match is the best one of the three by far with non stop back and forth action from start to finish. Thundermug comes out on top at with a Viking spike followed by a brutal belly buster at the 8 minute mark and advances to face Mini Moto and Cosmic Ray for the Beta Max Championship at Three's A Crowd
Winner Thundermug via belly buster in 18:00 ***1/2
These are two of the best workers in the W3 and either one of them would have been great to see in the triple threat match. I expect to see these wo going at it again soon
Quick Results
Sturgis Khan def Amish Robot*
Wild Thang and Rhinestone Cowgirl def Cookiepuss and Beulah Gorillacutty ** (Diva Challenge)
Thundermug def Johnny Gizmo (Beta Max Qualifying Match)
ALX def Johnny Satan by disqualification ***
W3 Presents
THREE'S A CROWD
Diva Challenge Elimination Tag Team Match
Team Cookiepuss
Kween Squatifah CookiePuss, Fifi Cheveaux Aissle, and Beulah Gorillacutty
VS
Team Sayanora
Haiku Sayanora, Wild Thang, Gumslinger

Triple Threat Match For Beta Max Title
Mini Moto vs. Cosmic Ray vs. Johnny Gizmo

3 Way Dance For W3 Ladies Title
Thunderball vs. Artemis Jubblies vs. Mona Mammeries

3 vs. 3 Mixed Tag Team Match
The Legends (ALX, Buddy Hotpants and Granny) vs. Devil's Triangle
( Johnny Satan, Suzy Succubus, And Lil Torquemada)

2/3 falls Ultimate Title Exile Match
Frankenpuss W/ Doctor Mutato vs. Flex Manley